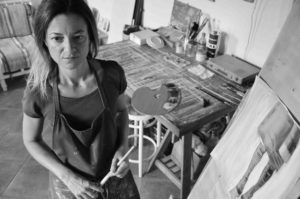 Elisa Begani nasce nel 1974 a Sestri Levante. Dopo l'Istituto Statale d'Arte frequenta l'Accademia Ligustica di Belle Arti a Genova, dove si laurea nel 2000 con lode, dopo aver frequentato l'ultimo anno di studi a Granada, in Spagna, con una borsa di studio.
Le lunghe ore passate a lavorare con i modelli gettano le basi del suo lavoro sulla figura che è oggi il tema predominante della sua pittura. Dai nudi accademici passa in maniera molto naturale ai ritratti utilizzando fotografie scattate alle amiche e talvolta anche a se stessa; l'influenza del mezzo fotografico le ha permesso di focalizzare il suo interesse sui particolari e di creare dipinti molto intimi che raccontano per immagini una femminilità velata. Dal 2000 al 2015 tiene uno studio aperto al pubblico nel cuore di Sestri Levante nel quale lavora e allestisce una mostra personale permanente delle sue opere, ma già a partire dal 1997 ha al suo attivo anche diverse esperienze espositive sia in Italia che all'estero. Lavora principalmente con pittura a olio, ma spesso utilizza anche acrilico e carta, creando opere in tecnica mista e collage. Ama viaggiare, ma vive e lavora a Sestri Levante.
Elisa Begani was born in 1974 in Sestri Levante .
After the "Istituto Statale d'Arte" Hight School, she attended the "Accademia di Belle Arti" in Genoa with the last year of study in Granada, Spain with an Erasmus scholarship. She received her art degree in 2000.
The theme of her unique paintings results from her deep research on human bodies which evolved from her work with academic naked figures and developed into portraits inspired mainly by herself and her friends' photographs. Her portraits lead the observer's attention to small details in an overall pattern of the mysteries of female intimacy.
Since 1997 she has shown her work in private galleries both in Italy and abroad. From 2000 to 2015 she held a studio open to the public in the heart of Sestri Levante where she worked and set up a permanent personal exhibition of his works,
She works mainly with oil paint and often also uses acrylic and paper, creating mixed media collage artworks.
She loves to travel and still lives and works in Sestri Levante.